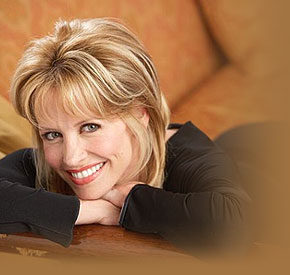 Emmy Nominated actress Krista Tesreau currently divides her time between acting and hosting. Perhaps it's her acting background, her audience recognition or her mid-western likeability and sincerity that makes her so outstanding at Hosting. From the start of her Hosting career, Krista was an instant success, winning an ERA award for Best Short Form Spot for Swiffer Wet Jet Mops. Krista went on to Host for Bare Escentuals, whose products have become the number one best seller in the beauty category since Ms. Tesreau became its face and Host. All this success has led to Krista working for top companies in the Direct Response industry, including Hawthorne Direct, Script to Screen, Proctor & Gamble, Icon, and Modern Media. Krista has also hosted numerous TV reality-based shows, and is a spokesperson for various companies.
At the tender age of two, the St. Louis born actress started playing the piano. This early affinity for the piano developed into a true talent. She placed second in the Jefferson City, Missouri piano concerto competition. Later, at age fourteen, Krista placed in the top ten in the nationwide Liberace Music Competition. In addition to Krista's talents at the piano, she also performed competitively in gymnastics exhibitions and studied dancing, singing, and clarinet, earning over seventy-five awards.
Her first professional acting role came a year later when she performed with the famed comedy team Stiller and Meara, playing their daughter in a short film. In high school and the University of Missouri, Krista modeled, appeared in several commercials and won the 1981 Miss TEEN title. While doing summer stock theater, Krista was spotted by a Hollywood producer who encouraged her to move to Los Angeles. She took his advice and within a few months of her arrival, she was cast in her signature role of "Mindy Lewis" on CBS's Guiding Light.
Krista stayed on Guiding Light for six years, during which the show enjoyed its zenith of popularity. In 1987, Krista received the Daytime Emmy nomination as Outstanding Ingénue in a Drama Series for her portrayal of Mindy, and also garnered a Soap Opera Digest Award Nomination for Outstanding Actress in a Drama Series, in 1988.
Krista left Guiding Light in 1989, but still makes regular appearances. Her roles since leaving the show are wide and substantial. She had recurring roles on "My Two Dads", "Elvis" and "Silk Stalkings". She's showcased her dancing and gymnastics talent on "Circus of the Stars" and "CBS New Year's Eve". She made guest appearances on "Who's The Boss", "Quantum Leap", "Dragnet" and starred in a Perry Mason Movie of the Week. She also returned to daytime television as Andi Klein on "Santa Barbara". In 1994, Krista assumed the role of the tantalizing Tina Roberts on the show "One Life to Live", and played that role for three years.
After returning to Los Angeles, Krista starred in several independent films, including the movie "Ringmaster", based on the life of the ever controversial talk show host, Jerry Springer. Her other film credits include "Breaking the Rules" and "Laws of Deception".
Krista is married and resides in Los Angeles with her husband Glen and their children Andrew, Rachel, and Michael. She also enjoys hosting recitals in which she plays the piano. For further information, see Krista's website www.kristatesreau.com